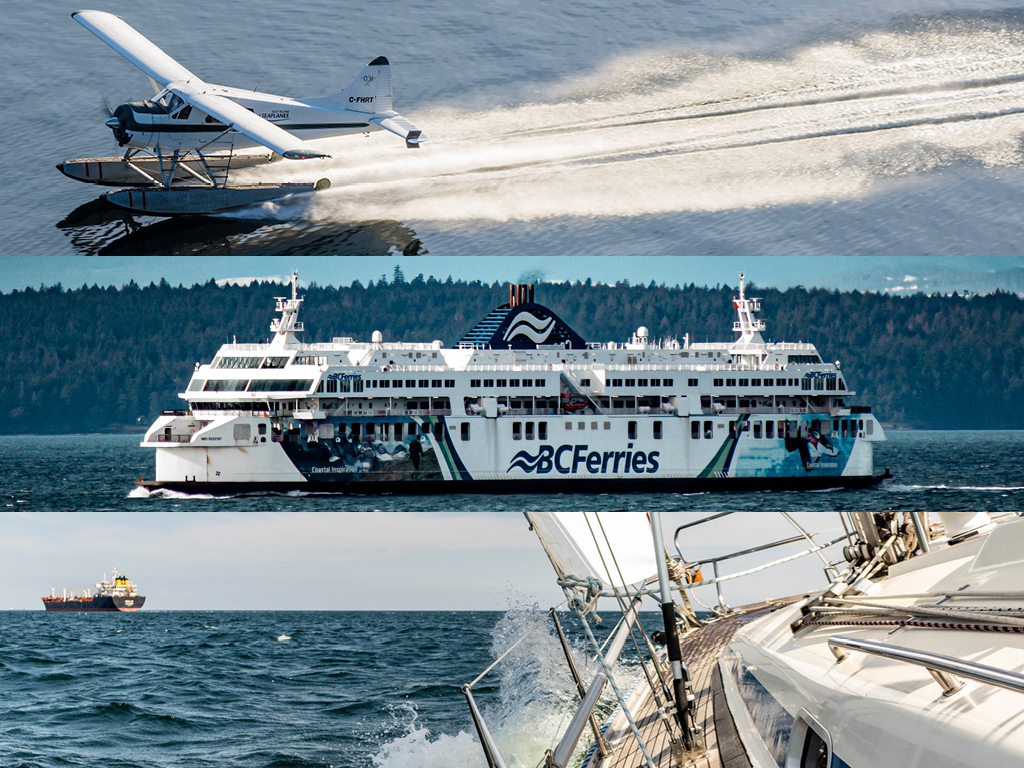 Route starts from Vancouver
Gabriola Island's popular Silva Bay Resort and Marina can be accessed by several different means of transportation. Information for all passages listed assumes the route originates in Vancouver. 
Sailing: Cruising to Silva Bay in Style on Your Own Boat or Yacht
To reach Silva Bay from the city of Vancouver, all vessels will need to transit the Strait of Georgia. The staff at Silva Bay continuously monitor VHF channel 66A. To help ensure efficient arrivals, all clients are asked to radio the Silva Bay staff in advance of any entrance to the marina. 
Transient moorage is available by request. Advanced reservation is necessary to ensure a slip is available for each yacht. Moorage bookings can be reserved by calling (250) 247-8662 or through our online portal at www.silvabay.com. 
Slip reservations fill rapidly, so guests are encouraged to book well in advance of their planned trip to avoid disappointment. 
BC Ferry Services: Travelling to Silva Bay by Passenger Ship
For passengers wishing to bring a motorized vehicle to Gabriola Island, the passage with BC Ferries is required. BC Ferries depart from two different locations for the convenience of passengers. Departures are scheduled several times throughout the day from both Horseshoe Bay and Tsawwassen with arrivals in the Departure Bay and Duke Point Terminals in Vancouver Island's premiere city of Nanaimo.
To board the Gabriola Island Ferry, a ship known as the MV Quinsam, passengers will need to travel a short distance to reach the Nanaimo Harbour. Though the ferry ride serves a functional purpose, it is also renowned for its incredibly scenic views. The ferry ride is both invigorating and relaxing, an added bonus for every traveller on a trip to Gabriola Island. 
Ferry passage to Gabriola Island is ideal for weekend visits and holidays. A stay at Silva Bay Resort and Marina offers guests the opportunity to enjoy the tranquility, peace, and relaxed atmosphere of island living while being only a short boat ride from the attractions of the big city. 
 Gulf Island Seaplanes: Chartered Flights to Silva Bay Resort and Marina
A premium-level service offered at Silva Bay Resort and Marina for the convenience of their guests, Gulf Island Seaplanes provides daily direct flights from Vancouver International Airport directly to the marina's docks. Seaplanes can be boarded at the airport's south terminal. Approximate travel times from the Vancouver airport to the marina located at Silva Bay is 15-20 minutes. 
Guests travelling to Silva Bay Resort and Marina via a Gulf Island Seaplanes can sit back and enjoy the stunning Pacific Ocean views while seated in the lap of luxury. Passage via a seaplane is an exciting experience, invoking the feeling of the jet-setting lifestyle and adding to the enjoyment of any Gabriola Island adventure. 
 To book passage on one of the Gulf Island Seaplanes, contact www.gulfislandseaplanes.com to check availability and make a reservation. 
Alternatively, phone reservations can be secured by calling (250) 247-9992.
GERTIE: Gabriola's Communitiy Bus Service
Get around Gabriola Island with Gertie shuttle bus service, you would able to experience the convenience and witness the scenic and memorable view of nature during the ride. They are offering several routes taking you to different destinations around the island. For more details about the Gertie's bus service, please visit www.gabriolacommunitybus.com.