« Back to Blog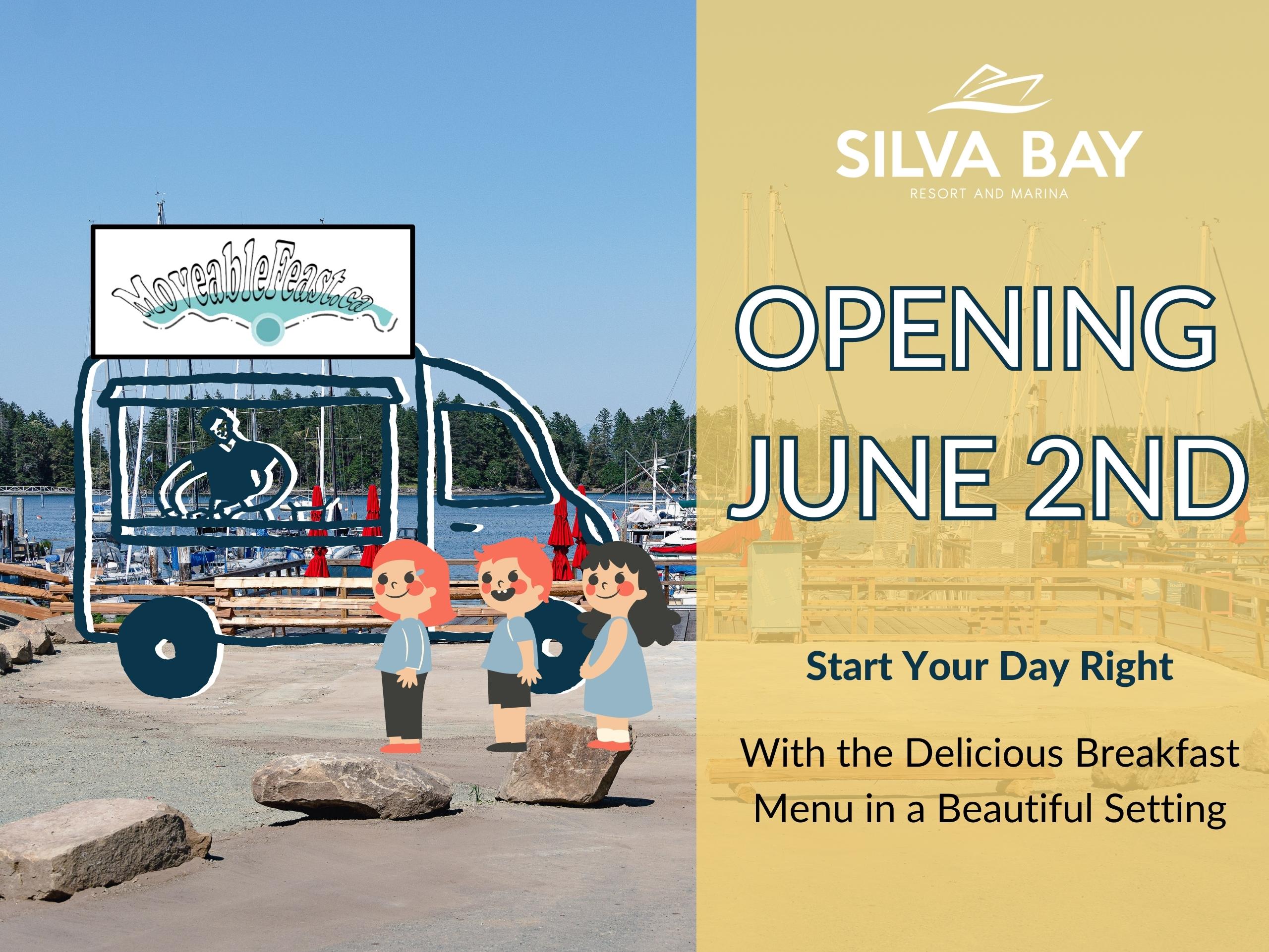 (June 08 2023)
Moveable Feast | Food Trailer at Silva Bay
Save the date of June 2nd and prepare yourself for a tantalizing culinary journey with Moveable Feast Gabriola! On this special day, indulge in their mouth-watering cuisine that will surely leave you yearning for more. Please note that they are presently providing breakfast only, but they will soon introduce dinner service. Stay tuned to our social media channels for updates on when dinner will be available.
Moveable Feast Gabriola, the delightful food trailer now locates at the Silva Bay Resort & Marina on beautiful Gabriola Island. They take pride in serving up delicious, locally sourced cuisine that will tantalize your taste buds. Their menu features a variety of mouth-watering dishes, all made with fresh ingredients sourced from nearby farms and suppliers.
Start your day off right with their scrumptious breakfast options, available from 7:00 to 01:00 PM. Whether you're craving a hearty breakfast sandwich, a classic bagel with cream cheese, or a flavorful breakfast bowl packed with potatoes, pico, scrambled eggs (or scrambled tofu), bacon, and cheese, they've got you covered. Indulge in their freshly baked muffin of the day or savor the combination of yogurt and fruit. For a truly delightful treat, try their waffles topped with fruit and whipped cream.
Quench your thirst with their refreshing drink selection. Enjoy a delicious smoothie or choose from their variety of beverages, including drip coffee, tea, and a range of sodas. During the season, they also offer fresh juices bursting with flavor.
When it's time for dinner, their weekly specials will keep you coming back for more. They offer a selection of mouth-watering options, such as Fish Tacos, Burritos (with choices of Beef, Chicken, or Veggie), and Grills with seasonal veggies. Sink your teeth into their barbecue ciabatta sandwiches, featuring your choice of Jerk chicken, Pulled pork, Brisket, Sockeye salmon, or Chili. You can enjoy these delicious fillings on a ciabatta bun or as a rice bowl.
Customize your meal with a choice of two toppings from their selection, including arugula, hot house tomatoes, red onions, smoked cheddar, slaw, leaf lettuce. To add an extra burst of flavor, they offer a variety of condiments, such as chipotle aioli, banana peppers, hot sauce, mustard aioli, relish, and their very own Moveable Feast House Sauce.
At Moveable Feast Gabriola, they understand the importance of catering to various dietary needs. That's why they offer vegetarian, vegan, and gluten-free options, ensuring there's something for everyone to enjoy.
Join them and indulge in the delectable cuisine of Moveable Feast Gabriola starting from June 2nd and beyond! They look forward to serving you and satisfying your appetite with their delectable, locally-sourced dishes.
To view their menu, please visit our website at: https://silvabay.com/moveable-feast/!