« Back to Blog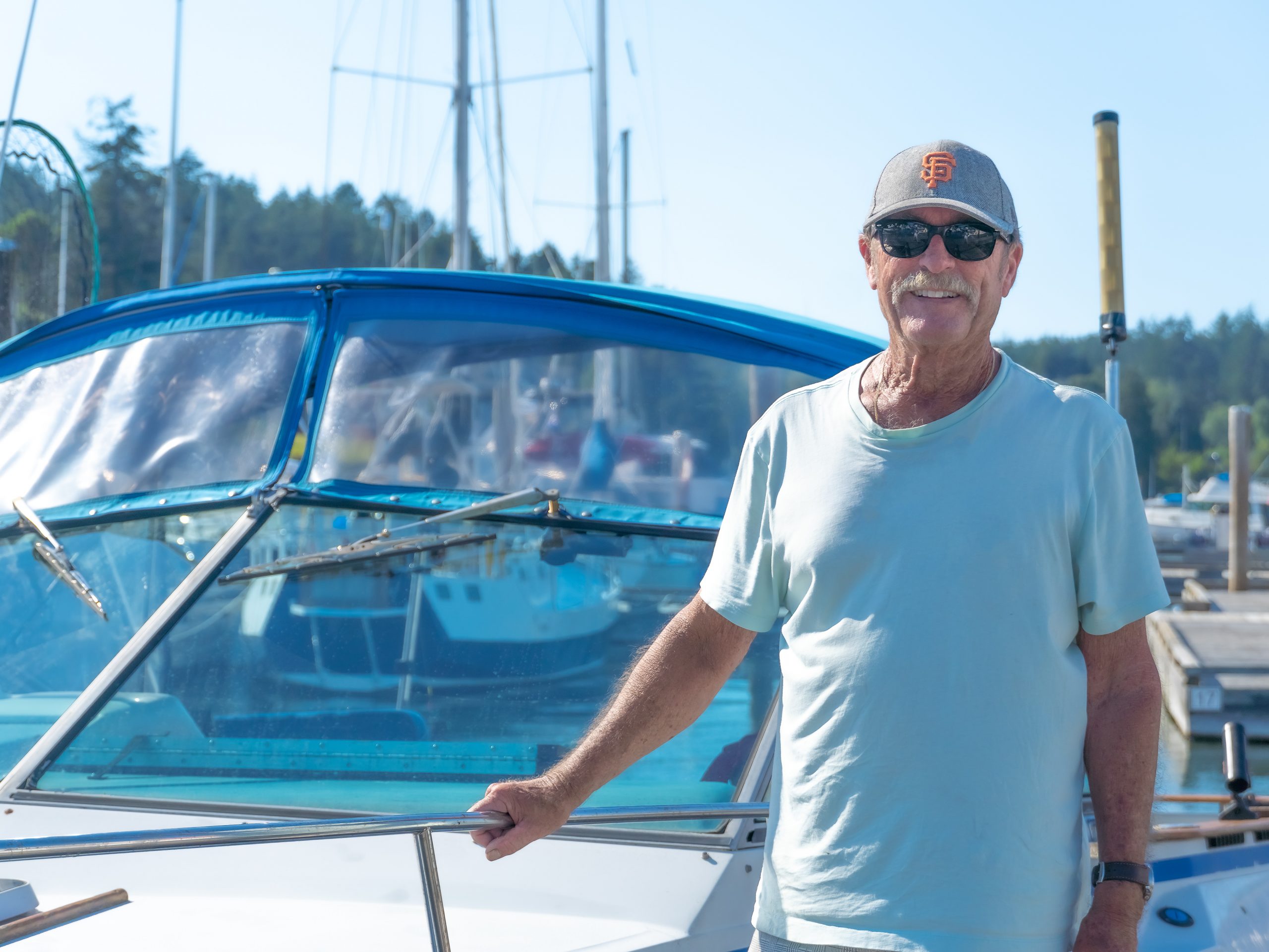 (August 24 2022)
One Day in Silva Bay – Bob Meyer
In this episode, we have Bob Meyer, owner of Silver Blue Charters, who has lived on Gabriola Island for 52 years. He's showing us around Gabriola Island's hidden gems and where the fish are.
Self-Intro Of Bob Meyer
Bob: "I'm Bob Meyer, and I run my own company, Silver Blue Charters, right here in Silva Bay. That being said, Silva Bay, for me, is much more than a place of work. It's home. I've lived on Gabriola Island for 52 years. It was during that time that I conceived the idea for my company.
After I conceived the idea, the only thing left was to give it a suitable name. And what better way to come up with a name than with something I see every day?
So, I created an image (in my mind) of a silver fish jumping out of the water. And with that, I named my company "Silva Blue Charters". It's been 34 years since then, and I still love living and running Silver Blue Charters in Silva Bay daily."
My Work At Silva Bay Charters
Bob: "My primary business is performing fishing tours for Prawns, Salmon, Ling, and Rockfish.
I also do wildlife tours, and Seals, Sea Lions, and Eagles are almost constantly present. We see whales (Humpback and Orca) about ten percent of the time, and they are an added bonus!"
A Typical Day In Silva Bay
Bob: "My day in Silva Bay starts off with me prepping the boat. This consists of warming up the engines, cleaning the windshields, sharpening the hooks, baiting the prawn traps, and getting ready to go.
My primary business is Chinook Salmon fishing, as about ninety percent of my clientele wants to pursue this specie. Some people prefer fishing Ling and Rockfish, and the structure at Thrasher Rock provides a good opportunity for these delicious species. The prawns are part of almost every trip, and people love catching and eating them. Upon returning to the dock, I clean the fish and prawns, then do an extensive boat cleaning."
How I Feel About Working In Silva Bay
Bob: "I love working in Silva Bay. Why wouldn't I? I've been working here for over 30 years, and it's the one place that I can call my little home away from home.
Besides being a truly heartfelt place for me, Silva Bay is also extraordinarily beautiful. It's the kind of beauty that makes you happy to go to work every day and makes you look forward to the next day.
I never get tired of returning to Silva Bay. After all, it's beautiful beyond comparison, it's where I earn a living, and it's also my home away from home."
How I Think The Future Resort Will Impact My Business
Bob: "Silva Bay Resort and Marina will once again become a very focal point of this community. The future accommodation at the resort will provide a wonderful source for people interested in fishing charters and wildlife viewing. The future restaurant and pub will also create a lot of business, as people see the fish being brought to the dock for cleaning. The staff has always recommended my services over the years, so this is beneficial.
Also, I can't wait to once again dine, overlook the Bay, and enjoy the scenery and a great meal! I have eaten hundreds of meals here and am looking forward to doing so again! This development will be beneficial to the whole Gabriola Community, and people can't wait to see the new resort!"
Why I Still Live And Work In Silva Bay
Bob: "The main reason why I love living and working in Silva Bay is the proximity to great fishing. I drop the prawn traps just out of the Bay, The Grande is five minutes away, Thrasher ten, and Entrance Island twenty. Fishing traffic is generally light, compared to places like Campbell River or The Alberni Canal.
However, the fishing is strong enough that many Vancouver guides come here for day trips. Chinook fishing is year-round, with the Ling and Rockfish open for retention from May 1st through September 30th. The friendliness of the Silva Bay Marina staff, the beauty of the Bay, combined with the great fishing opportunities create a perfect scenario for me to work here."
---
Thank you for the continued interest and support in Silva Bay Resort & Marina! To watch the video of Bob's one day in Silva Bay, click here.
Also, for more episodes of our new campaign "One Day In Silva Bay", please stay tuned on our social media channels and website. We can't wait for you to join us here soon!