« Back to Blog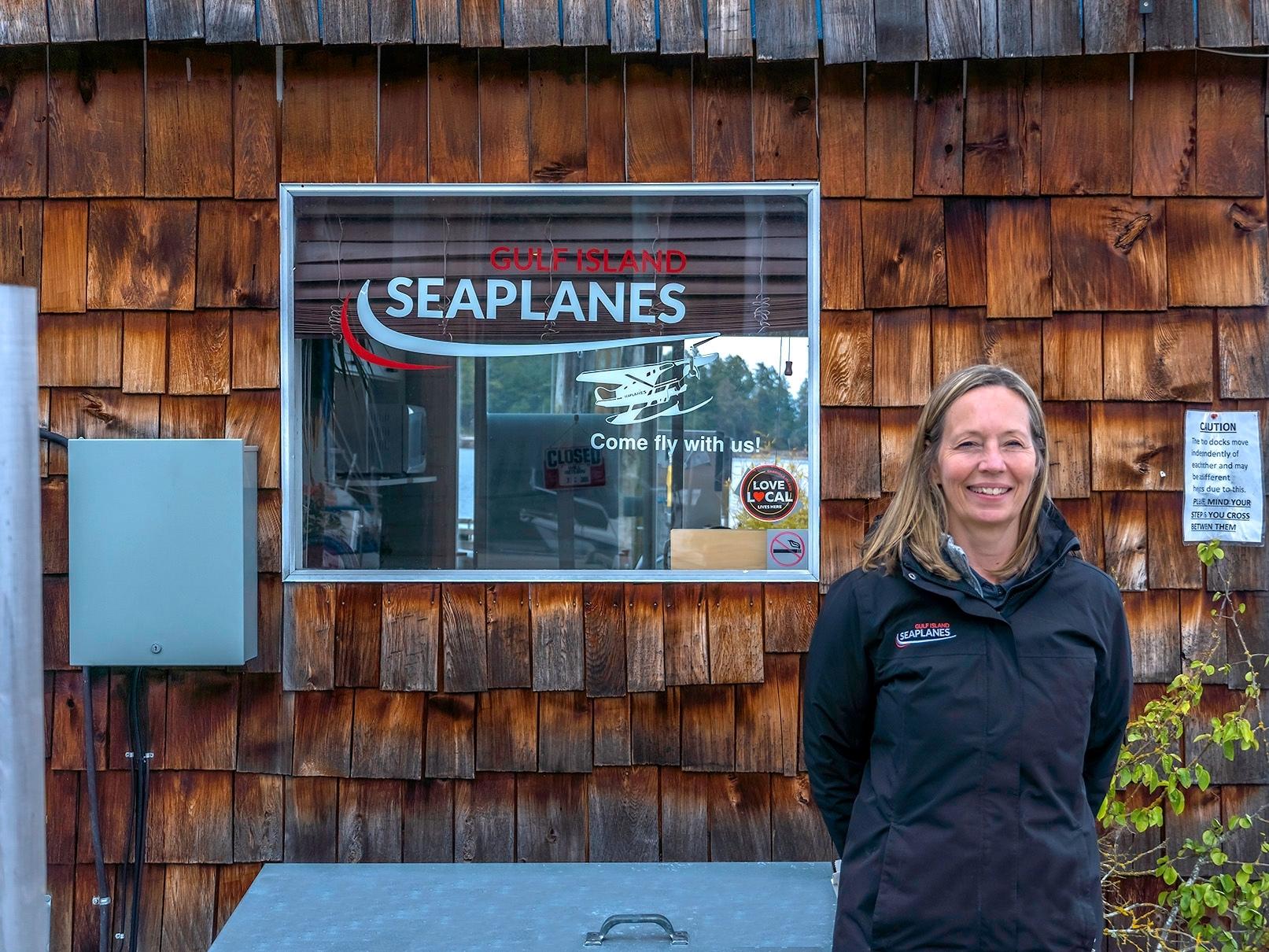 (June 22 2022)
One Day in Silva Bay – Buffy Barrett
One Day in Silva Bay is a project we've started to let people discover other sides of Silva Bay by going into one day with different individuals who reside, work, or stay there.
In our first episode, let's meet Buffy from Gulf Island Seaplanes, our long-time partner, who's been doing her job for seven years! It'll be interesting seeing what a typical day in Silva Bay looks like for her – so strap yourself into your favourite chair because today might just turn out to be very informative…
Waking Up to a Typical Day In Silva Bay
For her, a typical day at Silva Bay in the winter is different than in the summer. Unlike the quiet winters, it's always so lively during summer.
Buffy: "Silva Bay is always so much fun during the summer because it is always busy with boats. We would often see people living on boats at the bay. A typical day to them begins when they get their fires going. Even if you're far away, you'd always see the smoke coming up from their boats. 

Trust me; you can't miss it! It's just… It's lovely!"
Silva Bay is The Most "Chill" Place to Work at
Buffy LOVES her job. But she loves doing it in Silva Bay even more.
Why? Let's hear her out…
Buffy: "The previous Floatplane company I worked for had five bases, one of which was on Gabriola Island. Sean and Alison bought the base, and it became Gulf Island Seaplanes. Gulf Island Seaplanes was always my favorite company to work at – for reasons you might've guessed already.
It's based at Silva Bay!

And to me, that means it has the best people, views, and vibe."
What's Not to Love About The Folks Of Silver Bay?
This enthusiastic island-based floatplane employee shared to us one of the things that makes Silva Bay so magical is the community feel.
Buffy: "We already know most people who take our flights but watching them up close as they arrive or depart always fun. What's not to love about the experience? There'd be boats everywhere, and you'd always hear the ambient sound of the birds in the background. While all of these are as magical as it gets, there's something I love even more…
Seeing people hugging each other and saying goodbye while others welcome people they haven't seen in a long time is a whole different level of extraordinary.
And don't even get me started on the thrill of watching people fly on a floatplane that have never done it before. Most people enjoy the experience of flying in a floatplane for the first time, especially if it's on a calm day. Of course, they're always nervous at first, but it's entertaining to see their reaction once they land.
Oh! There's another thing that goes with Silva Bay, like jam on toast.
It's the thrilling views!
When you look out of the office, you'll see that it's surrounded by water, trees, and the Flat Top Islands. You'll even find Tugboat Island just across."
With amazing views like these, it becomes easy to sit back, relax, and tune into the wonder that is Silva Bay.
Silva Bay Means a Lot to Buffy
Silva Bay is a comfortable zone because of the community around it. It is the perfect work environment for Buffy because it's cozy and familiar. The people in the neighborhood help make this place such an enjoyable workplace to be at every day!
Their office is located at the docks of the Silva Bay Marina. But location is not the only reason for maintaining a good long-lasting business relationship between Gulf Island Seaplanes and Silvabay.
Buffy: "Although we don't work side by side with Silva Bay, we have a great relationship with them, and we tend to help each other when it gets busy.
If I was the owner of Silva Bay Resort & Marina, I would try to get the public to remember how popular the pub and restaurant used to be in the 1960s. I would also try to showcase the stunning environment and marine life."
They Have Excellent Customer Service!
Gulf Island Seaplanes is an indigenous-owned family company, and they're thankful and lucky to be able to call Gabriola Island our home base.  They are super proud of their customer service and their customer service is second to none.
You can book your flights online through gulfislandseaplanes.com, but they are always more than happy to book your flights over the phone because they get a chance to chat with their passengers.
---
Thank you for the continued interest and support in Silva Bay Resort & Marina! To watch the video of Buffy's one day in Silva Bay, click here.
Also, for more episodes of our new campaign "One Day In Silva Bay", please stay tuned on our social media channels and website. We can't wait for you to join us here soon!