« Back to Blog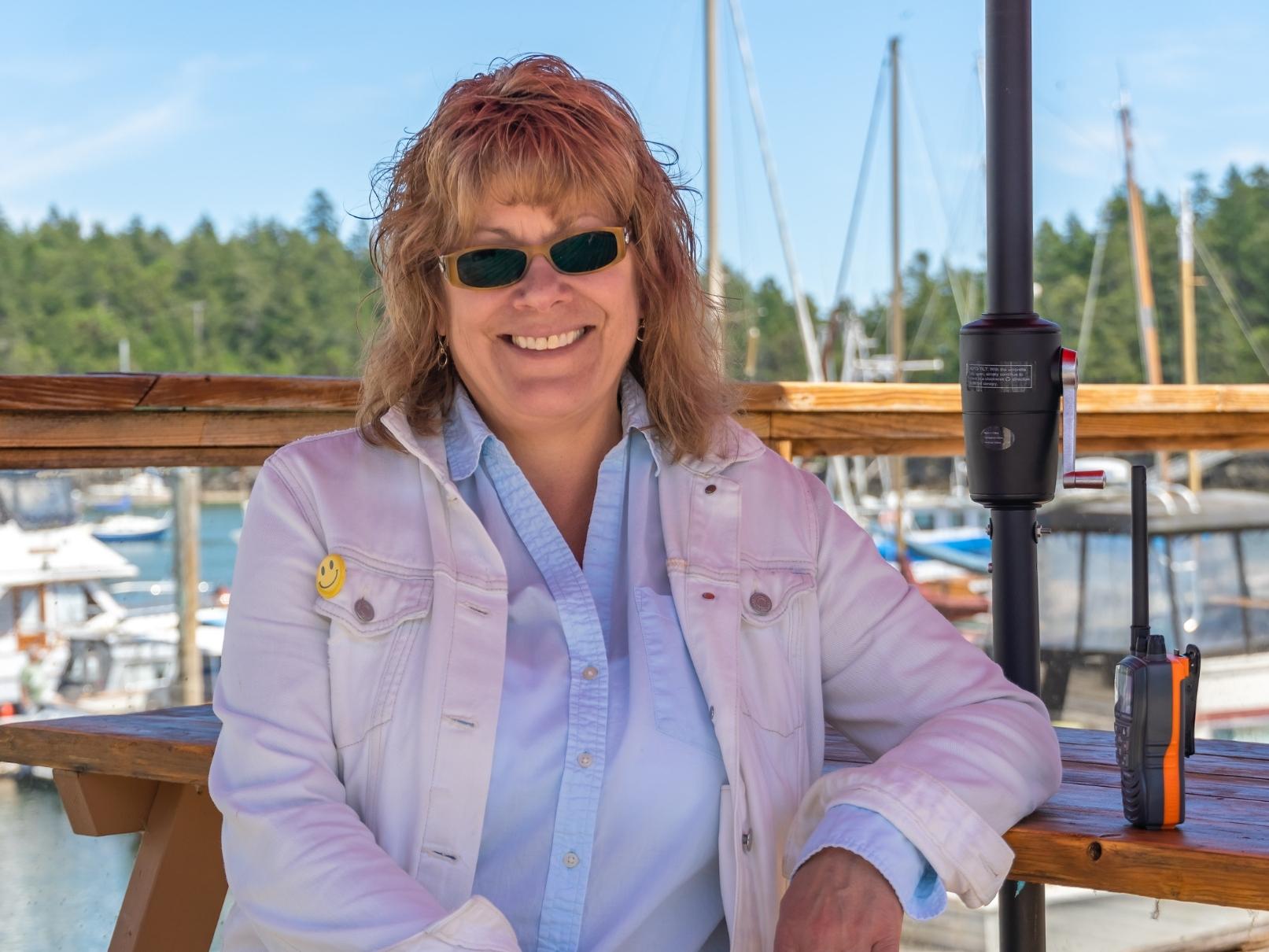 (July 21 2022)
One Day in Silva Bay – Lisa Millard
In this episode, we have Lisa Millard, the marina manager at Silva Bay Resort and Marina. She's worked here for five years and lived in Gabriola for nine years. She's the first person you meet upon arriving at the marina, by land or sea. Lisa has been managing the marina well with her previous boating experience and general knowledge of marina systems, which make her the key person in Silva Bay.
A Typical Day In Silva Bay Marina
A typical day in Silva Bay for Lisa is basically a work day. But don't get her wrong, she loves it, and you'll soon see why.
Lisa: "I do a tourism type of work. When I come into the office in the morning, I open things up, look at which boats are coming in, and take phone calls and reservations for incoming boats for the day or future. But these are just tiny bits of what my work day in Silva Bay looks like. The larger part of my work is the part where I get involved with the people. It is also the part I love the most. So, after taking reservations, the part of my job that feels like "work" is done. And what comes next is the part where I enjoy – conversing with people.
Most people who come in often look for places to go, things to do, and how to get there. Another group of people I work with are long-term mortgage holders for their moorage contracts and other needs. As you might guess already, I talk to all of the people who come in and try my best to help them with whatever they need. "
What It's Like To Work In Silva Bay
Lisa: "I absolutely love it. I mean, why not?
Silver Bay is beautiful, and there's nothing not to love here. It's very peaceful, and the scenery is wonderful. It's no wonder the people coming here on vacation are always have fun. The best part for me is that I get to talk with all of the visitors.
As I said before, I like the customers. I like dealing with people and helping them have a great stay and a good vacation. Helping people is a part of my work, but it isn't just "work" for me. It's just a great job at a wonderful place with amazing people."
How Much Work I Do In Silva Bay
There's always a difference between working in the summertime and working in the winter. And the difference comes in terms of customer volume.
Lisa: "Summertime is the high season. In this season, we have people coming and going all day long. They're coming by boat, driving as tourists, looking around, kayaking, and just having fun. Basically, it's always very busy and active.
In winter, though, there are fewer people, so work's usually very quiet. In the winter, I mostly just talk to the locals. The people that have boats come down and check on their boats.
Although Silva Bay remains beautiful in winter, there are a lot of storms and fog. So it feels like a whole different place with a whole different vibe."
Here's One Thing About Silva Bay That Just Doesn't Change
The seasons may come and go, but Silva Bay remains an enjoyable place. It's always been fun, and we know this because…
Lisa: "I started coming to Silva Bay by boat many years ago. Back then, there weren't any boats out in the harbor at anchor or on the mooring buoy. So, you could either anchor and bring your dinghy in and come up to the pub or restaurant or come and tie up at the dock.
Silva bay is close to the Lower Mainland and is the closest first stop. So, if you want to leave the Lower Mainland and get to your first anchorage, that's Silva Bay. That's why it's a hopping-off spot for people. I've been coming here for years, and it's just nice to be able to settle and work here as well."
My Marina Experience Before Silva Bay Is Not What You Might Think
Lisa: "I haven't worked in any other marina.
Before working here at Silva Bay, I worked at Silva Bay inn, with a small marina attached to it. However, unlike Silva Bay, the inn doesn't have a transient mortgage. So, there aren't boaters coming and going in the summer season. It's just a long-term mortgage.
So, my main marina experience has been as a customer."
Why I Love To Work In Silva Bay And Stay On Gabriola Island
Lisa: "Gabriola Island is a stunning place to live. It's very peaceful. It has a rural, slow pace, which I love and have been looking for. And to top it off, my job at Silva Bay suits what I like to do – working with and talking to people.
It's been great working for the company, and great things are happening now with the development. So, it's an exciting time to be here. Who wouldn't love it here?"
Something To Look Forward To In Silva Bay
Lisa: "The marina itself is in great shape right now, so there's not a lot of improvement to do there. But the resort project that's happening is exciting and brings the excitement back.
Everyone, especially the locals, are looking forward to having a restaurant again. So, the whole plan is really clear, very much needed, and without a doubt, will be very popular."
The Best Thing About Silva Bay
Lisa: "It's the nature and beauty of the bay. The bay is protected from the weather; that's why it's a popular marina with many boaters. There's so much to enjoy in Silva Bay, no matter the time of the year. Whether during the quiet winters or in the busy summer days, you'll always see eagles overhead and even people kayaking around.
Sure, Silva Bay can be as busy as it can get, but it's a fun, peaceful, and beautiful piece of nature."
---
Thank you for the continued interest and support in Silva Bay Resort & Marina! To watch the video of Buffy's one day in Silva Bay, click here.
Also, for more episodes of our new campaign "One Day In Silva Bay", please stay tuned on our social media channels and website. We can't wait for you to join us here soon!